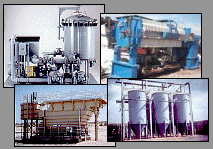 Water Works, founded in 1993, is a worldwide supplier of pre-owned filtration and process equipment that can accommodate most major industries, including Chemical, Paper, Pharmaceutical, Plating, Automotive, Food and other related industries.
Water Works has a friendly sales staff that can help you with your equipment needs. We can supply you with details by using photos, prints, videos, and other support information, making it easier to decide on equipment purchases. Most units can be viewed at our facility in Crown Point, Indiana which is located in Northwest Indiana near Chicago. We are conveniently located approximately an hour from 3 major airports.
---
Dust Collector - Todd Manufacturing Company, Griffin Environmental Collector, Model CF30N, 12' Tall X 4' Diameter with surge hopper, 304 stainless steel, sanitary finish, 30 bags, 4 1/4" diameter X 87" long (233 square feet), pulse type, has collection cone & stainless steel rotary, air lock, explosion proof package, 4' diameter surge hopper with vibrator, ladder & small platform.
Click here for more...