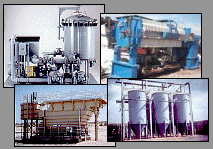 Water Works, founded in 1993, is a worldwide supplier of pre-owned filtration and process equipment that can accommodate most major industries, including Chemical, Paper, Pharmaceutical, Plating, Automotive, Food and other related industries.
Water Works has a friendly sales staff that can help you with your equipment needs. We can supply you with details by using photos, prints, videos, and other support information, making it easier to decide on equipment purchases. Most units can be viewed at our facility in Crown Point, Indiana which is located in Northwest Indiana near Chicago. We are conveniently located approximately an hour from 3 major airports.
---
2 (TWO) IDENTICAL UNITS AVAILABLE | NEW/SURPLUS
MODEL : CONVE27518024
WIDTH : 18" X LENGTH : 6'8" Contracted | 23'2" Extended
WATER WORKS UNITS : 3329 / 3330
Click here for more...



Permanent Quick Connect:
No-hassle conveyor connector. Connecting brackets made from 11-gauge steel. Handknob sets and lock washers provide no-tool connection assembly.
Capacity with 5-1/4" Axle Centers:
Fully extended - 275 lbs per linear foot.
Skate Wheels:

[ 9 ]

S - Steel skate with steel ball bearings.
Axles:
5/16" diameter steel axles.
Axle Centers:
Standard 5-1/4" axle centers. 3 and 4-inch centers available.
Leg Sets and 4-Point Connection:

[ 7]

1-1/8" OD, 12-gauge steel tubing. Reinforced inner leg and double cross-braces. Four-point connection to skate wheel axles.
Height Adjustment:
24" to 28"
Side Links and Connections:
7-gauge, zinc-plated steel. Top connections: 5/16" steel axles with lock nuts. Cross-point connections: steel pivot pins with spring-loaded retainers. Bottom Connections: combination of pivot pins and 5/16" steel tie rods.
Box Stop/Handle:
Heavy-duty 1-1/8" OD, 12-gauge steel tubing. Folds down when not in use.
Couplers:
7-gauge steel couplers to link conveyors together.
Heavy-Duty Casters:
Standard: 5" x 1-1/2" swivel caster with heavy-duty stem. Swivel/wheel lock pedal brakes provided on first and last leg sets.
Price:
$889.00 US - each

The durable Nestaflex Model 275 conveyor is a heavy-duty option for easily moving and transporting materials, boxes, packages and more. It has double cross-braces and reinforced legs for additional support. The heavy-duty frame of the Model 275 conveyor allows it to easily handle heavy packages and cartons. It features casters, making the Model 275 gravity conveyor completely mobile. Use this conveyor in a warehouse or for manufacturing needs.