Supplier of Pre-owned Industrial Filtration Equipment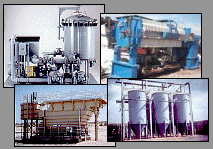 Water Works, founded in 1993, is a worldwide supplier of pre-owned filtration and process equipment that can accommodate most major industries, including Chemical, Paper, Pharmaceutical, Plating, Automotive, Food and other related industries.
Water Works has a friendly sales staff that can help you with your equipment needs. We can supply you with details by using photos, prints, videos, and other support information, making it easier to decide on equipment purchases. Most units can be viewed at our facility in Crown Point, Indiana which is located in Northwest Indiana near Chicago. We are conveniently located approximately an hour from 3 major airports.
---
Unit # 3525 New surplus, Filtrafine Multi bag filter vessel, hold 4 P-2 bags, unit was never installed. 316 stainless steel construction 4" flanged bottom inlet & outlet Model 4MSB2-316-4FDA-NC150 S/N 2138-141200112-1 01 P.D. 150 psi P.T. 225 psi Temp 200 F Vol 60 gal N.W. 481 lbs F.W. 981 lbs Year 2015
See category "Filter Housings" for complete listing.
---

NEW/SURPLUS : 2 UNITS AVAILABLE
GENERAL STEEL TANK CO. - FUEL/WATER SEPARATOR FILTERS

600 gpm | 150 psi | aluminum construction | 6" inlet and outlet | holds 30 filter elements | skid mounted ITEM # 3211 & 3212.

Click here for more...
---
---
---
Unit # 3392 Wastech non-metallic

chemical treatment skid. Two Yamada 3/4 "poly AODD pumps piped to one Yamada pulsation damper.
One Widen 1/4" poly AODD pump. One Tuthill stainless steel gear pump for polymer 0.11 GPH with inverter duty 1/2 HP motor and controller. One static mixer and other components. All AODD pumps tied to junction box to be controlled by PLC (PLC not with unit). Per tags on unit was feeding lime, CaC12 and polymer. Excellent condition.

---

Dust Collector

- Todd Manufacturing Company, Griffin Environmental Collector, Model CF30N, 12' Tall X 4' Diameter with surge hopper, 304 stainless steel, sanitary finish, 30 bags, 4 1/4" diameter X 87" long (233 square feet), pulse type, has collection cone & stainless steel rotary, air lock, explosion proof package, 4' diameter surge hopper with vibrator, ladder & small platform.
Click here for more
...

Equipment - links
---
Water Works --
A Division of Polydisc, Inc.
P.O. Box 122 / 501 Foote St.
Crown Point, Indiana 46307
toll free: 800.232.9334
ph: 219.663.8210
fax: 219.662.1503

Equipment - Links